Double albums can be a nuisance. I mean, there are so many songs to go through. Albums that are good are ones that feel cohesive and not an effort to listen to. So, how can two discs in a row feel like this? The fact that they are split by a moment for you to swap discs already kills the flow of the album. Well, there are a few albums that are just so damn good that listening to them from start to end is not a task. The space in between swapping discs becomes irritating because you are so eager to hear what else is coming up. You don't see that break as a halfway point but rather a warning that your musical journey is going to end sooner than you think, in which you can just start it all over again.
Double albums that are done well can be simply magical, and in fact some of the best listening experiences one can have. So, if you have lots of time this summer, try these albums if you haven't already, for these are, what I would consider to be, the ten best double albums of all time.
10. Godspeed You! Black Emperor-Lift Your Skinny Fists Like Antennas to Heaven
Godspeed You! Black Emperor cover all bases of the spectrum of human emotions, usually at the very same time. Their second major release started off the new millennium with hope for an outside species from another planet. You hear weather and robotic voices talking to absolutely no one. The world is empty. If their first album predicted an apocalypse, this album best represented its after effects. Is it depressing and full of doom, or is it uplifting and optimistic? It changes every time you listen to it, as the instruments speak more about Godspeed's message than any lyrics could (which is why they don't even try to add any).
9. The Beatles-The White Album
The Beatles were always ambitious, and their double disc, formerly self titled release is no exception. While their albums usually had songs that were on a set wavelength, especially later in their career, The White Album just sounded like a barrage of different strokes and emotions bundled into one (there's even an experimental, ambient track on there right before a happy album closer). Is this a bad thing? Nope. If anything, The White Album sounds exactly how you would picture a recording session with The Beatles to be. There aren't any stories or concepts. It's just (as the self titled nature implies) The Beatles being The Beatles. While I do think they have better albums, this one should not be overlooked by any means, as some of their best songs are on this release.
8. Can-Tago Mago
This experimental practice in rhythmic structure and jam sessions is a sound to behold. It may be abrasive at first, but it soon turns into an appreciation for humanistic barbarianism, especially the vocals. One second, everything sounds happy and easy to follow, and in a split second you are left falling down a deep hole into a surreal mindset. Tago Mago never asks permission, it just does as it pleases. While this may seem a bit intimidating at first, this album is worth checking out because it will expand your mind and your sense of what can constitute as music. The rhythm section is off kilter and yet so steady, and the guitars follow behind a mad man of a vocalist as both explore unknown territory. The keyboardist? Well, he ends up being the most destructive of them all.
7. Miles Davis-Bitches Brew
Jazz is an interesting genre to get into, because so many are not used to the ways of said genre. Rock can have pop elements, rap can have rock elements, and so on. Jazz is tricky because a lot of it is kept as is. You'd think Miles Davis, the king of contemporary jazz, would have stuck to his roots, but nope. Bitches Brew is an experiment that definitely paid off. Electric guitars and moments of rock and roll chaos were injected into a typical jazz structure, and suddenly you're introduced to a wide range of chaos. However, with Davis in control (you can literally hear him at times), the album works like balloons on strings; So close to flying away, but it's still grounded. Jazz fusion exploded soon after this album, even if it existed before. If it will make this album any more mind blowing, all of it was recorded on the fly by musicians who found flyers Davis put up around town. Now that's magic.
6.The Jimi Hendrix Experience-Electric Ladyland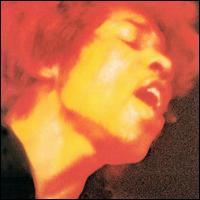 Sadly The Jimi Hendrix Experience only lasted a few years, and Jimi Hendrix himself died not too long afterwards. Their last album was exactly how it was named; An amusement park environment full of fuzz, distortion, pummel and sex. Everybody in the band is at their very best here, and that's saying a lot, considering how fantastic they were on their past two albums. The album truly feels like a ride and its exploration of emotions and sounds will last in your memory for days. It's just nothing more than raw passion, and it becomes a treat to listen to, since it is so identifiable (except for the musicianship itself, of which is next to untouchable). It's a shame it was their final album, but, damn, was it ever their best one.
5. Prince-Sign O' The Times
Prince is a control freak. We all know it. He's damn proud of it, too, and why shouldn't he be? He's released a number of inspirational albums, and his best, Sign O' The Times, happens to be a double album. Kind of like The White Album, there isn't a set mood or feeling here. It's just Prince being Prince. What makes Sign O' The Times his most daring album though is his dabbling in so many different styles. You never know if he will sing a song with a high pitched voice or a low crooning voice (or even the voice of a woman). Even though there is so much going on, having Prince at the wheel guarantees us that the album will make sense in the long run. At first it may not. After a while, it becomes a statement on the current state of the world, whether it be about poverty, religion, relationships, or just having a good time. Never has a news report had so much style before.
4. The Rolling Stones-Exile on Main St.
This can't make sense. How can a band like The Rolling Stones have a great double album? How can their best album be a double album? Their songs are to the point and direct. Surely the album would be boring, right? Wrong. Yes, this album probably has the most unity out of any of the other albums on the list, but it's still got a sense of excitement and mystery. Behind the Stones themselves, you will often find a choir, a brass section, a backing band, and more. The song writing is still straight forward, but the musicality itself is so expressive. What Mick Jagger cannot convey through his words, he will instead with a piano melody, or whatever else he'd come up with. Exile on Main St. sounds like the ultimate barroom album where everybody is having a ball and all are equal. It is also the first time a rock band felt more like an orchestra whilst not being one, where instead of symphonies we got tales of the average man in the big world.
3. The Clash-London Calling
After The Clash got a new drummer, their sound changed drastically from your run of the mill punk band to something truly spectacular. They still kept their punk roots, well, rooted, but they tried out many different sounds and patterns. You will find moments of reggae, pop, new wave, rock and roll, and so much more on here, and yet it still feels like a punk album. Every song has its own identity and every song begs to be repeated. Everything from the album cover itself to the entire album speaks about rock music of the past, present and the future. It's timeless, and probably one of the biggest surprises in contemporary music, proving that a structured band can expand without losing their edge or their sound.
2. Stevie Wonder-Songs in the Key of Life
Stevie Wonder's career started off as your basic pop career. There were some good songs, but that's about it. He kind of went downhill for a bit afterwards. However, in the middle of his career, he recorded what are known as his absolute best albums. These are the albums we remember him for, because, in all honesty, how could you forget them? His best album is, again, a double one, where the majority of the instruments are recorded by himself. Every song is uplifting, even if the message is sad (Wonder remains optimistic through it all). Imagine Sign O' The Times but told by a wise, spiritual man and not a realist. The entire album is a celebration of life and a celebration of sound, and it has the power to change how you are feeling no matter how many times you listen to it.
1. Bob Dylan-Blonde on Blonde
Take a look at that album cover. Bob Dylan is out of focus. It's no secret that his voice isn't the best in the world, but we don't love Dylan for his ability to hit a wide range of notes. We love him for his stories and his songwriting. Once he pissed off the majority of the world by combining folk with rock music, the world came to forgive him by the time Highway 61 Revisited was released. The following album, Blonde on Blonde, was his way of taking it up a notch once he was given his dues. He didn't just settle with America's eventual approval of his music, he decided to expand it. His voice is the only element that isn't overly polished, as every single sound is so finely tuned and so well places. Every song has layers upon layers of melodies to discover. Suddenly, his whimsical singing takes on the role of a familiar story teller (perhaps one you knew as a kid, like a parent or a teacher) and the music becomes the story coming alive. Dylan always has the final word with a harmonica melody to end the majority of his songs as not only a connection to the next song but also a way of surrendering to the music itself. The next time you see the album cover, remind yourself that it, in the end, isn't focused. It's just natural. Naturalism is what makes a double album like Blonde on Blonde beautiful, but also the best double album of all time.